Delicious and nutritious salmon.
You can make very delicious and simple side dishes just by mixing Japanese seasonings and grilling.
Please try it.
Ingredients
2 salmon
2 tbsp. Sake
*1 tbsp. Sake
*1 tbsp. Mirin (Rice wine)
*1 tbsp. Sugar
*1 tbsp. Soy sauce
Method
Step 1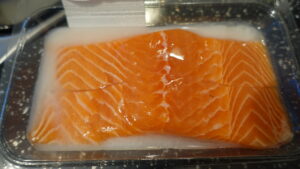 Sprinkle 2 tablespoons of sake on salmon and soak for 5 minutes.
Step 2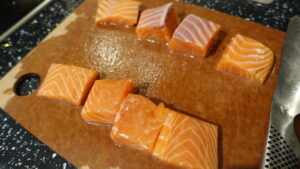 Cut the salmon into bite-sized pieces.
Step 3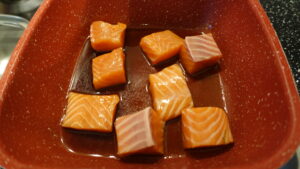 Put Sake, Mirin, Sugar and soy sauce (marked with *) and salmon in a frying pan and bake.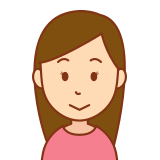 It is very delicious when eaten with white rice. It's easy to remember the same amount of soy sauce, mirin, sake, and sugar.
I always procure many ingredients from Ocado.