In winter, Japanese people want to eat "NABE" at home or eating out.
This NABE does not mean "a pot", but warms the body with plenty of vegetables in Japanese.
It is a dish made in one pot.
The feature is that you put the stove on the table and eat it while heating it.
There are many kinds of NABE dishes in Japan.
Today I will introduce the basic method of making NABE that can be made here in the UK.
Ingredients
300g chicken
300g Chinese cabbage
( or sweet cabbage)
150g Leek
100g carrot
100g mushroom
80g rocket leaf
100g Tofu
*1000 ml water
*100 ml Sake
*2tbsp chicken stock
100ml Ponzu
1/2 Yuzu pepper( if any )
A little spring onion ( if any )
Method
Step 1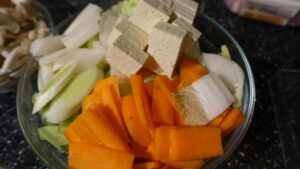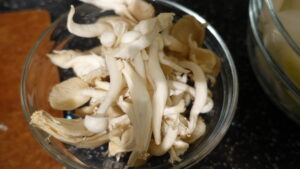 Cut vegetables and chicken
Chicken , Tofu/ Cut to bite-size
Carrot /Cut to thin rectangle
Chinese cabbage/ Cut 3cm
Leek / Cut diagonally
Mush room / slice to easy eating
Step 2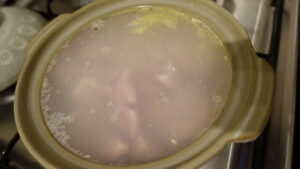 Put water, sake ,chicken stock(marked *) and chicken to a pan and boil
Remove lye.
Boil about 10 minutes.
Step 3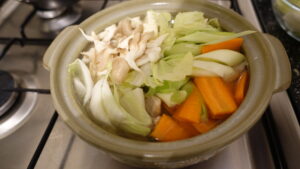 Put vegetables(except rocket leaf) into the pan and cover.
Boil about 5 minutes.
Step 4
Put rocket leaf and boil about 3 minutes.
Step 5
Serve and enjoy it.
You can eat with ponzu , yuzu pepper and spring onion .
Related article:What is "PONZU"?

After that…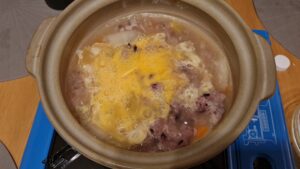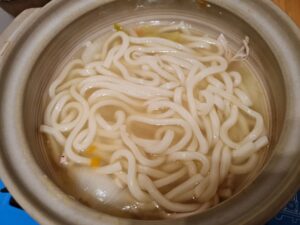 You can enjoy the remaining soup .
Put noodle or rice and egg.
It is common in Japanese.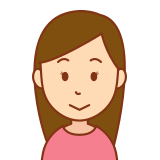 Not only chicken, but also adding fish and trying various things to find your favorite taste.
SUKIYAKI introduced in the previous article is also a type of NABE.
Related article:How to make "SUKIYAKI" with meat ball
I always procure many ingredients from Ocado.
Many Japanese use it.
You can get a lot of Japanese ingredients.
And I also recommend Japan Centre.
You can get not only Japanese ingredients but also miscellaneous goods and books.
Related article:I ordered the ingredients from the "Japan Centre ".~Feb.2021~
When you leave the UK on your way home or on a business trip, you must take a test before you travel.

Depending on the country, there may be conditions for entry.
Please be sure to check the homepage of the embassy.