This time I would like to introduce meatballs. It is included soy sauce.
And it does not deep fried ,but boil them. So, it is oil less and healthy.
Let's try it!!
Ingredients (for 8 balls)
8 Meatballs
1 tbsp. Potato starch or tapioca starch
*1 tbsp. Soy sauce
*1 tbsp. Sake
*1 tbsp. Rice wine
*1/2 tbsp. Sugar
*White roasted sesame
Method
Step 1
Boiled water
Step 2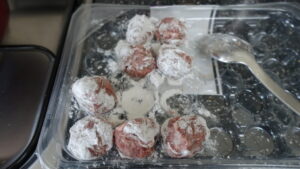 Sprinkle the meatballs with potato starch.
Step 3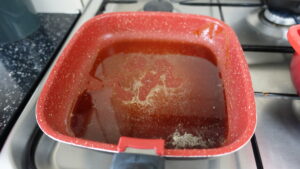 Mix soy sauce, sake, rice wine and sugar.
Then put in sauce pan ,and heat it.
Please be careful not to burn it.
Once the sugar has melted, turn off the heat.
Step 4
After boiling the water, add the meatballs.
After a while, the balls will float, and then boil for 1 minute.
Step 5
Heat the soy sauce pot again over low heat and add 2 tablespoons of hot water which boiled meatballs.
Step 6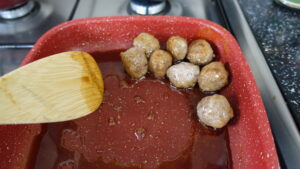 Add meatballs and white sesame.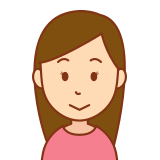 This is a standard Japanese bento side dish because it is delicious even when cold.
I always procure many ingredients from Ocado.