This time, we will introduce the popular and standard dish, mooli radish salad, at the Japanese pub "Izakaya".
It's so delicious that you can't stop eating.
Ingredients
1/2 Radish (Mooli)
Ordinary radish can be used as a substitute.
*2 tbsp. Soy sauce
*2 tbsp. Sesame oil
*2 tbsp. Rice Vinegar
( white wine vinegar or apple vinegar etc…)
*1 tsp. Mirin
*1 tbsp. Grinded white sesame
A little Bonito flake ( if any )
A little seaweed
Method
Step 1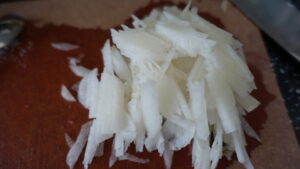 Thin-slice the radish.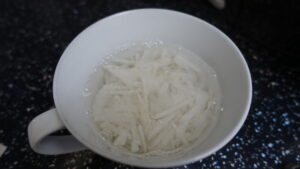 Then soak in cold water.
Step 2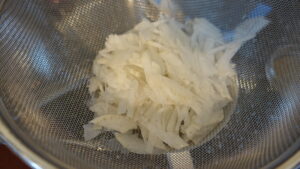 Drain the water and serve on a plate.
Then sprinkle the dried bonito on top.
Step 3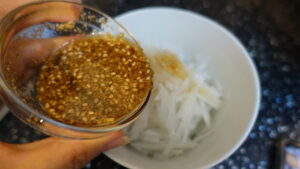 Mix soy sauce, sesame oil, vinegar, mirin and grinded white sesame(Marked *).
Sprinkle on top of the served radish.
Step 4
Mix well.
Step 5


Finely chop seaweed into small pieces.
Top a little dried bonito flakes.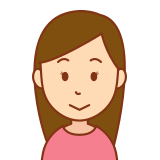 This is also delicious with finely chopped cabbage and lettuce.
Please try it.
I always procure many ingredients from Ocado.
Many Japanese use it.
You can get a lot of Japanese ingredients.
And I also recommend Japan Centre.
You can get not only Japanese ingredients but also miscellaneous goods and books.
Related article:I ordered the ingredients from the "Japan Centre ".~Feb.2021~
When you leave the UK on your way home or on a business trip, you must take a test before you travel.

Depending on the country, there may be conditions for entry.
Please be sure to check the homepage of the embassy.