Octopus is a very popular ingredient for Japanese people.
As an example, I will show you how to eat.
Ingredients
360 cc rice
Boiled octopus 150g
20g ginger
50g broccoli
*2 tbsp. Soy sauce
*1 tbsp. Sake
*8g dried bonito dashi
A little of salt
Methods
Step 1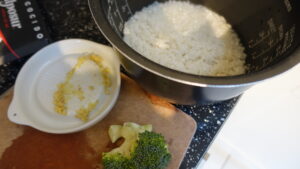 Wash rice and broccoli.
Grate ginger.
Step 2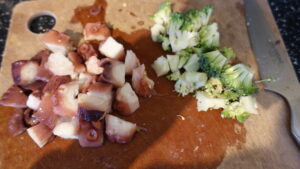 Cut octopus and broccoli into about 1.5 cm.
Step 3


Put rice, broccoli and octopus into the rice cooker.
Then put soy sauce, sake and dashi ( marked *)
Add water up to the 2nd scale.
Step 4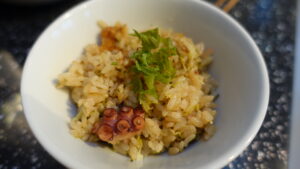 After the rice is cooked, put ginger and mix well.
The photo is topped with shiso leaves.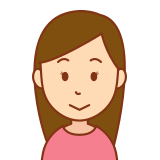 I always procure many ingredients from Ocado.
Many Japanese use it.
You can get a lot of Japanese ingredients.
And I also recommend Japan Centre.
You can get not only Japanese ingredients but also miscellaneous goods and books.
Related article:I ordered the ingredients from the "Japan Centre ".~Feb.2021~
When you leave the UK on your way home or on a business trip, you must take a test before you travel.

Depending on the country, there may be conditions for entry.
Please be sure to check the homepage of the embassy.