In this blog, I introduced how to make sushi cakes and sushi rolls.
There are more ways to cut corners.
It is "hand-rolled sushi".
This allows guests to make their own favorite sushi.
Today I will show you how to prepare for it.
Things to prepare
Seaweed (Sushi nori)
Sushi Rice
*please read related article how to make sushi rice.
Fresh raw fish (Cut to bite-size)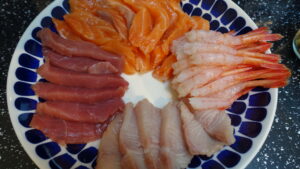 (I prepared raw tuna, raw salmon, cooked eel, raw prawn and raw hiramasa )
Some fresh vegetables (prepare to bite size)
(I prepared finely chopped cucumber)
Soy sauce
Wasabi (if any)
Method to eat
Step 1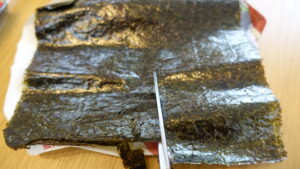 Cut seaweed to half size
Step 2
Put a little rice on the seaweed.
Step 3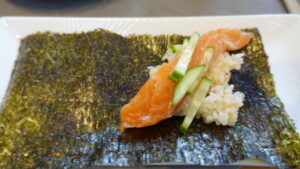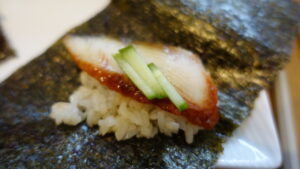 Put some ingredients what you want to eat on the rice
Step 4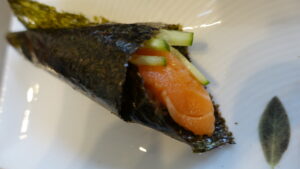 Roll it.
Step 5
Put a little soy sauce ( and wasabi) and eat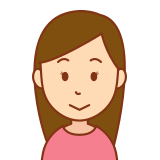 It's gorgeous and easy, so in Japan with like-minded friends, it's often made at parties.
Guests can choose their favourite ingredients, so they don't have to worry about it.
The host can also enjoy eating together.
Please try it.
I always procure many ingredients from Ocado.
Many Japanese use it.
You can get a lot of Japanese ingredients.
And I also recommend Japan Centre.
You can get not only Japanese ingredients but also miscellaneous goods and books.
Related article:I ordered the ingredients from the "Japan Centre ".~Feb.2021~
When you leave the UK on your way home or on a business trip, you must take a test before you travel.

Depending on the country, there may be conditions for entry.
Please be sure to check the homepage of the embassy.